by angeliska on May 13, 2005
In honor of Friday the 13th, and the absolutely
abhorrently shit day I've had, I bring you a little
blood-lust, gore and mayhem!
Such things always tend to
always make me feel more cheerful, anyway.
What follows is an exposition into the world of fear,
described in the (not so) faithful medium of film.
Some are subtle, some ham-hocked and heavy handed..
All are, in my opinion, fucking brilliant.
Firstly, we have a little gem called..


"Let it be known, sons and daughters, that Satan was an acidhead!
Drink from this cup, cleanse yourselves, and together we'll all freak out!"
The premise is amazingly ridiculous, or ridiculously amazing,
depending on your taste, and how sleep-deprived you may
or may not be at the time of viewing..


Either way, it features the incredible looking Lynn Lowry,
who plays a deaf-mute hippie satanist (with rabies), and who looks
exactly like a gelfing.


Am I right?
Of Freaks and Men
is a wonderful Russian film that is less
horrifying than subtly distressing..


It is beautifully shot story that is like
an Edward Gorey story come to life,
with Victorian girls getting spanked,
devious villians, and adorable Siamese twins!


The next two films, strangely enough,
both win the prize for frightening me the most
as a child. Actually, they still really freak me out.
Laugh if you want, but aliens and creepy old preachers
are truly very upsetting and I don't like them at all.
They stand up to the test of time.


Poltergeist II was the first horror film I ever saw.
I was at the age where Thriller was pretty scary.
The fact that the film centers around childhood fears
(Stranger/Danger, toys coming to get you,
your braces attacking you, skinless vomit-tequila worms etc.)
The weirdness about Heather O' Rourke's death,
the obvious connection to the Bell Witch (which I just made)
Native American ceremonies, and Tangina!
All serve to make this one of the most terrifying films, ever.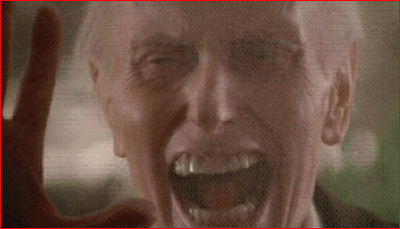 But Really. No lie.
I don't really want to discuss why Communion
is so disturbing for me at the moment.


Waah. It just is.
Okay so, saving the best for last-
The Tenant (Le Locataire)
is my favorite Polanski film, and not only
because it features my wife.
(Damn, I just realized I need to mention Possession..)


Ignore the bad dubbing, and enjoy Roman Polanski in drag.


Okay, so honestly- this is it:


I can't even tell you how important this film is to me.
It's the most bizarre thing I've ever seen, and I adore it immensely.
It's relatively difficult to find, and widely banned
(I think the original was burned in Poland,
where the director Zulawski is from).
Just don't get it confused with this dreck.
It's got Sam Neill, Isabelle Adjani, and a tentacled creature
completely losing their shit.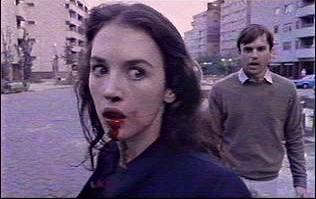 Fantastic.
Sorry this is so long- watch these and you'll thank me later.
Promise.